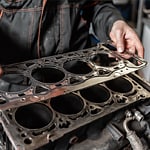 Gaskets Hold Air And Liquids Inside The Engine
Combustion engines contain countless gaskets that hold in air and liquids allowing the engine to function properly.
What Are Gaskets Made Out Of?
Gaskets are made of many different materials depending on the function. Here are a few examples:
Rubber
Metal
Cork
Copper
Foam
Paper
What Engine Parts Utilize Gaskets?
You'll find gaskets on almost every engine part because these elastomeric components join two surfaces together.
Here are a few examples of parts requiring gaskets on your car:
Engine head
Valve cover
Air intake
Exhaust
Injector
Read More