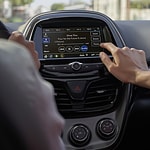 Compact and efficient, the new Chevrolet Spark also packs plenty of safety features into its diminutive frame.
Drivers can reverse with confidence, thanks to the rear vision camera, allowing for better spatial visualization while maneuvering in tight parking spots. Other standard safety features include 10 protective airbags and a safety cage designed with high strength steel to protect the cabin's occupants.
The Spark also has plenty of available safety features that drivers will appreciate, like automatic emergency braking and rear parking assist. These features can work separately or in tandem, keeping the vehicle from striking an obstruction by braking before impact. Warning systems for lane departure and forward collision help reduce other common causes of crashes. Drivers can also opt to add the OnStar Emergency Crash Response feature to gain the ability to contact emergency services when necessary.